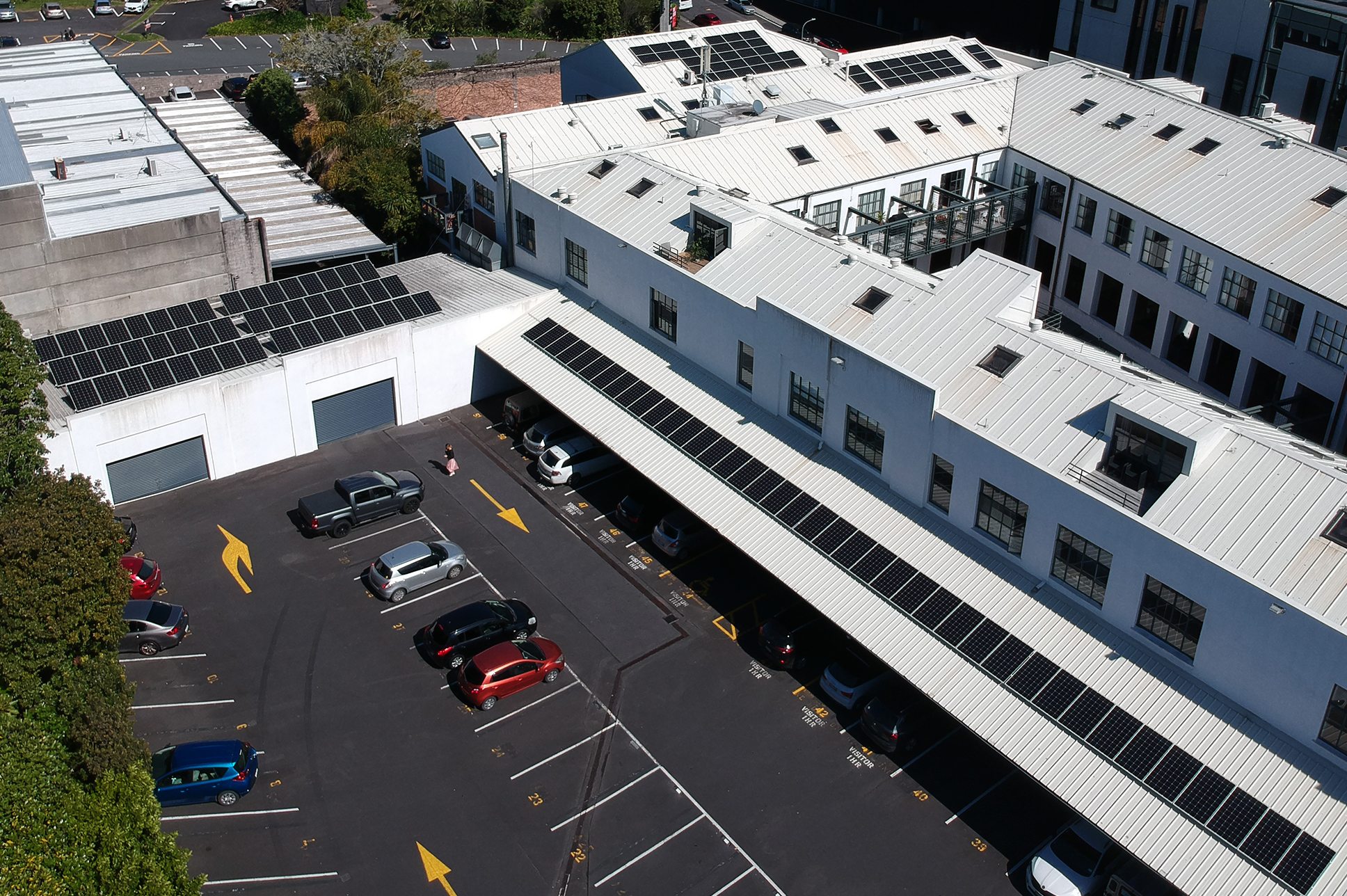 Commercial Solar – Why Should You Join?
Commercial electricity costs are high, and they're only getting higher. That's why businesses across the country are turning to solar to reduce operating expenses and reinvest those savings back into their business. In many cases, financing a solar installation can be cashflow positive from the start!
When your business consumes electricity – for lighting, for computing, or production – solar panels can help you reduce costs by reducing the amount of electricity you buy from the power company. In most cases return on investment is as low as 6.5 years and given the high reliability of the solar equipment, makes an excellent investment for forward thinking businesses.
Who's a Fit for Commercial Solar Power?
Is solar electric power right for your business? The best scenarios for rooftop solar are business that:
Have a energy usage during the day (Mon-Fri, 9-5pm is a great start!)
Large, unshaded rooftops, or have available land or a large parking structure adjacent to the facility
Want customers to see their solar systems for marketing/CSR purposes
Have a commitment to sustainability
Have a long term lease or own the building
Reasons to Consider Going Solar
Many expanding businesses invest in solar power to help offset the ever increasing energy bills from purchasing electricity. Others couple solar with related infrastructure investments, such as major roof repairs or new construction. Solar can also provide branding and community goodwill benefits derived from reducing the environmental footprint of your business.
Solar panels generate electricity while the sun shines upon them but without battery storage to hold the excess energy, they cannot contribute to your energy requirements at night or in inclement weather. Nor can they satisfy "surge" demands beyond their rated output, forcing companies to buy commercial electricity to satisfy spikes caused by events such as equipment start-up. These spikes are costly because demand charges are assessed for the highest 15-minute spike in demand during the billing period, as measured at the meter. Combining PV systems with storage effectively mitigates these spikes. Energy storage has the effect of evening out the load measured by the utility meter. This is especially important in the "shoulder" hours when sudden load spikes might result in demand charges.
Benefits of Commercial Solar Systems
1. Cost Reduction:
The largest single benefit of solar power for businesses appears every month in your electricity bill. Solar energy provides a dramatic reduction in commercial power costs, and in locations where "net metering" is available, it may even result in revenue from excess power sold to your local utility.
The cost reduction of switching to solar power is determined by several variable factors, including location, time of activity, industry, and size of facilities. Businesses that will benefit the most from switching to solar are ones with enough space to build an appropriately-sized system to cover their energy needs, enough sunlight to generate the solar power and a load profile that requires energy at peak hours.
Solar electricity can also reduce or remove your demand and delivery charges. Utilities apply these charges to recover the costs of purchasing energy during times of heaviest load, and maintaining power lines and energy lost in the transmission system. By moving the source of your power to your site, you can avoid these added expenses. As a further "green" benefit, you eliminate energy lost to resistance in long-distance power transmission lines. You may also reduce space cooling costs in your facilities through the shade that photovoltaic panels provide for your roof.
Solar energy is also remarkably scalable. It's possible to start small with a solar array that contributes only a portion of your total energy requirements throughout daylight hours and build it out over time to provide for all your electrical needs. And in many areas, the electricity that exceeds your needs can be sold to your local utility as a revenue producer.
2. Resiliency
In addition to front-of-meter financial cost savings from solar electricity generation and storage, additional behind-the-meter benefits provide additional business incentives. One of the most significant incentives for businesses or organizations that require power 24/7 is the ability to create a solar microgrid that effectively converts your facility into an energy island, independent of utility energy providers.
3. Sustainability and Competitive Advantage
In today's business climate, sustainability and competitive advantage are very closely linked (especially with a growing emphasis on environmental stewardship and reduced-carbon operations). Not only does solar energy reduce electricity costs, which frees up financial resources to re-invest in business development and innovation, but it can also earn you recognition as an industry leader in switching from fossil fuels to renewables.
Going solar can also increase your business' attractiveness as a corporate citizen and "green" business partner. Many organizations are developing corporate sustainability goals that call for doing business with other sustainable organizations. From this perspective, your investment in solar power makes you an attractive business partner for green-minded customers, and also satisfies the demands of regulators, and local governments, and institutional investors.
And it's not just the obvious benefits of reduced electric costs that solar panels provide. Skilful architecture and construction can integrate these units into a complementary element of your infrastructure. The ancillary benefits available to your company are limited only by the imagination of your planners and your solar solution provider.
Solar Panels for Businesses: What Should I Know?
The principal prerequisites for adding solar electricity to your small business include a sunny site, a structurally-sound roof, and a desire to control your operating costs. Commercial solar power systems are available from a wide range of sources. The apparent simplicity of one-size-fits-all solar project kits often lures small businesses into trying to build a system themselves.
But even if you're an engineering company with decades of experience in electrical design, you'll always achieve the best results if you work with a reputable, knowledgeable solar energy solution provider. As in any business, industry-specific knowledge helps experienced solar power consultants optimize costs and benefits for more than a "do it yourself-er" or small-time startup could.
Trilect Solar is a top-notch team that providing complete commercial, public sector, and utility-scale solar solutions. We offer all design, engineering, financing, and maintenance services in-house, creating a simpler process, and improved customer experience. Our unmatched expertise and quality are enhanced by the creativity we bring to each project.
Questions to Explore Before Going Solar:
1. How much electricity does your business consume?
Solar panels for commercial buildings can be sized from "just enough for today" to "plenty of power for years to come." Can energy that exceeds your needs can be sold to your local electric utility, resulting in even greater cost savings? Or would you receive greater cost-benefit ratios by storing surplus power for use during times of little sunshine?
2. How should you finance your business solar panels?
Commercial solar power providers offer several different business models. The best choice for your business will depend on the availability of discretionary cash, the size of the system, and the desire for fast, dramatic energy cost savings vs. preference for lower startup costs and longer return on investment.
Many businesses choose to purchase systems outright, using available cash or business loans. Cash deals typically have a higher return on investment because they allow businesses to take advantage of tax credits and incentives, but they do require an upfront investment of capital that may not be feasible for all businesses, as well as ongoing maintenance costs.
Commercial Solar Finance Option:
We provide 7 years repayment option for commercial solar client. In many cases, the saving from a much lower electric bill should be able to cover the monthly repayment for the system.
Steps for Implementing Commercial Solar for Your Business
1. Determine financial and sustainability goals for your business.
Start by ensuring that solar energy is a fit for your organization. Are electric utility costs a significant contributor to your operating costs? Will "going green" raise your organization's environmental profile among customers, regulators, and your community? Is space available on or around your facility for installing solar panels and storage equipment? The answers to these questions will help demonstrate the benefits of an investment in solar electricity to fellow decision-makers in your organization.
2. Gather the facts of your recent energy usage.
At least six months of electrical bills are essential to this process, but data for a year or more will allow you to identify seasonal peaks and valleys, as well as unusual consumption patterns such as equipment outages or unscheduled overtime. Also, financials related to business losses resulting from previous power outages, and projections of future business expansion, will help quantify the monetary advantages of solar energy.
Too many solar projects fail because customers skip this critical step. The range of vendors professing expertise span local contractors, public utilities, and recognized industry leaders. Even before you schedule the first meeting, get references, and check prior jobs to make sure you do business with a proven, reliable partner.
4. Last, award your business to a full-service solution provider that can handle the rest of the work for you –from financing to system design and construction, grid connection, and maintenance.
For this final and most critical step, choose a partner with strong financial backing that assures you of long-term support, and demonstrated experience building and supporting solar infrastructures of the size and complexity your business demands.
All in all, the easiest and most successful route to receiving the benefits of solar power is to work with an expert solar partner.
As a 20-year veteran of solar energy system design, installation, and operation, Trilect Solar will offer you the benefits of solar expertise combined with financial strength, lifetime dependability, and cost-saving relationships with all major component providers. This unrivalled technical and economic strength is your assurance of high quality, a low-cost self-generation system with exceptional long-term support.
Trilect Solar is a division of Trilect Services, New Zealand's master electrician since 1997.
We are members of the Sustainable Energy Association of New Zealand (SEANZ) which offers additional peace of mind to our customers.
Trilect Electrical Services is a large electrical service company which is a member of the Master Electricians & Mastercraft network with 40 employees and a 20+ years history of customer satisfaction.
Or call us on   (09) 271 2493